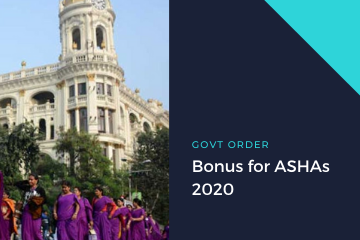 Government of West Bengal
Health & Family Welfare Department
Family Welfare Branch
Swasthya Bhawan, Bidhan Nagar
GN-29, Sector-V, Salt Lake, Kolkata – 700 091
Memo No. HFW-35013/2/2018-FW Sec-Dept of H&FW-Part (1)125 Date: 29.09.2020
MEMORANDUM
The Governor is hereby pleased to accord approval and sanction an amount of Rs. 2000/- (Rupees Two Thousand) only per ASHA (Accredited Social Health Activist) as ex-gratia
festival bonus for the year 2020.
1. The charge is debitable to the Head "24-HF-2211-Family Welfare-00-101-Rural Family Welfare Services-004-Accredited Social Health Activist (ASHA) Scheme-31-Grants-in-Aid-02­-Others Grants" under the major and minor head in the current year budget.
2. This ex-gratia festival bonus will be applicable for all in-position ASHAs who have started working in the field on or before 1″ December, 2019 after completion of first round of 6th & 7th module training (as per sub clause (v) of clause 2 of F.Ds. Order No. 1722-F(P2), dated. 13.05.2020.)
3. This order issues with concurrence of the Finance Department, Govt. of West Bengal vide U.0 No. — Group P2/2020-2021/0326. dated 15.09.2020.
4. Necessary fund will be released in due course.
Dr. Saumitra Mohan, IAS
Commissioner, Family Welfare
Health & FW Dept