Govt Orders
Resuming physical submission and processing of bills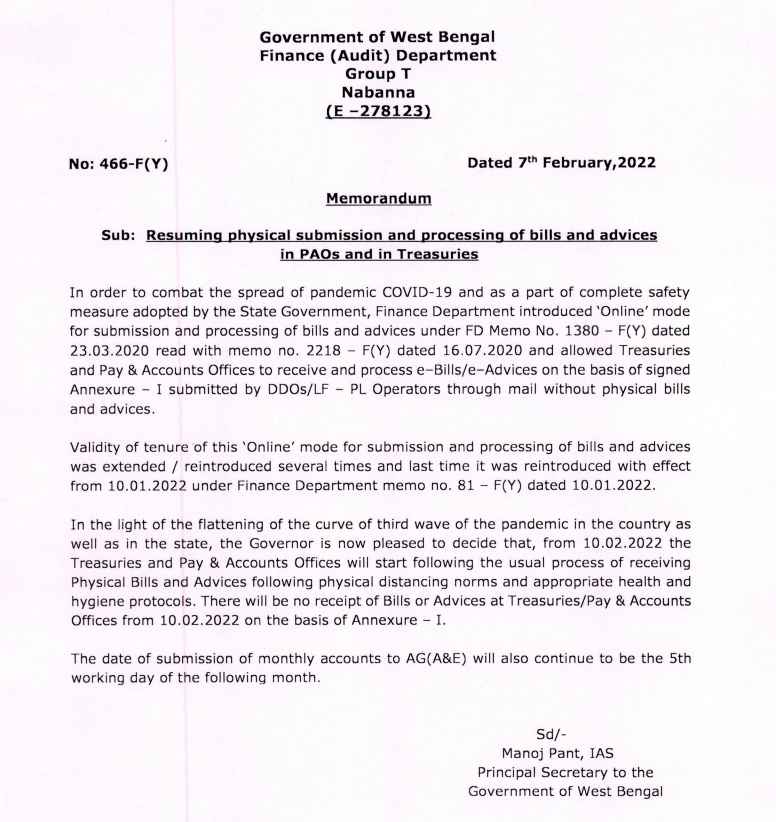 Memorandum for resuming physical submission and processing of bills and advices in PAOs and in Treasuries, published by Finance Department, Government of West Bengal.
Summery of the Memorandum:
Memorandum No.
466-F(Y)
Date:
07/02/2022
Department:
Finance department of West Bengal
Subject:
Summery:
1) From 10/02/2022 the Treasuries and Pay & Accounts Offices will start following the usual process of receiving Physical Bills and Advices following physical distancing norms and appropriate health and hygiene protocols.
2) There will be no receipt of Bills or Advices at Treasuries/Pay & Accounts Offices from 10.02.2022 on the basis of Annexure – I.
3) The date of submission of monthly accounts to AG(A&E) will also continue to be the 5th working day of the following month.
Resuming physical submission and processing of bills
Memorandum of Resuming physical submission and processing of bills: