ROPA 2019, Revision of Pay and Allowance 2019-PDF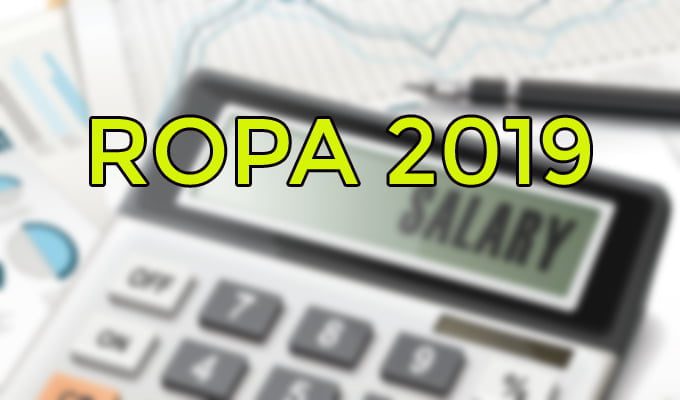 West Bengal Services (Revision of Pay and Allowance) Rules, 2019, (ROPA 2019) Memorandum issued thereon and related orders
West Bengal Finance Department issued ROPA 2019, Revision of Pay and Allowance 2019 with effects of 6th Pay commission, Download/View ROPA 2019 by clicking the below button.
Government of West Bengal, Finance Department, Audit Branch releases notification of ROPA 2019, including Pay fixation, Pay Matrix of 6th pay commission,
No. 5562–F the 25th September, 2019–In exercise of the power conferred by the proviso to article 309 of the Constitution of India, the Governor is pleased hereby to make the following rules, namely :‐
1. Short title and commencement ‐ (1) These rules may be called the West Bengal Services (Revision of Pay and Allowance) Rules, 2019. (2) They shall be deemed to have come into force on the first day of January, 2016. 2. Application ‐ (1) Save as otherwise provided by or under these rules, these rules shall apply to persons appointed to civil services and posts under the rule making control of the Government of West Bengal except members of All India Services, the West Bengal Judicial Service and members of the services to whom the University Grants Commission, the All India Council of Technical Education and Indian Council of Agricultural Research scales of pay apply. (2) Unless specifically extended under express order of the State Government, these rules shall not apply to ‐ (a) Subordinate executive staff of the Police Forces in West Bengal, (b) Officers and staff of the West Bengal National Volunteer Force, (c) Officers and staff of the West Bengal Legislative Assembly Secretariat, (d) ) Officers and staff of the Public Service Commission, West Bengal, (e) Officers and staff of the High Court at Kolkata (3) These rules shall not also apply to : (a) Government employees appointed on contract, (b) Government employees not in whole-time employment, (c) Government employees paid otherwise than on a monthly basis, Including those paid at piece‐rates, (d) Government employees who have retired in the afternoon of the 31st December, 2015, and (e) Government employees re‐employed after retirement.
For more download the PDF file.
Calculate your Salary: Click Here
Or you can view ROPA 2019 below:
Official Link of ROPA 2019: Click Here