Calculator
Commuted Value of Pension (CVP) Calculator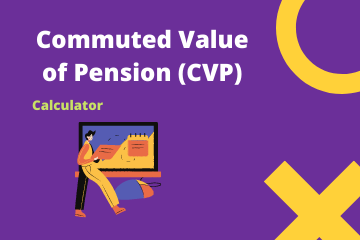 Commuted Value of Pension (CVP) calculator for West Bengal Government Employee and Pensioners. A government employee of West Bengal can commute a lump sum amount of pension maximum 40% of basic pension at the time of superannuation.
Using the following calculator is easy way to find the value of Commuted Value of Pension (CVP) amount.
Here the factor is found from the below table of pension ROPA 2019 (Memo: 536-F(Pen), dated- 01/10/2019 of WBFIN:-
Pension commutation Table
REVISED COMMUTATION VALUE FOR A PENSION OF Re. 1 PER ANNUM
In terms of Memo. No. 536–F(Pen) dated 01.10.2019.
The formula for Commuted Value of Pension
Monthly commuted pension amount x commutation factor x 12