This article showing the process to register in WBIFMS app to get various options of the mobile applications for West Bengal Government. The WBiFMS Mobile App has been designed to provide a user-friendly experience to the various users and stakeholders of the web portal of WBiFMS (https://www.wbifms.gov.in). Finance Department, Government of West Bengal has developed it to facilitate various Administrative Departments to plan, implement and monitor its various development projects and welfare schemes in an efficient manner and provide smart and better governance. Efficient administrative & financial functioning of the various organs of the government is another objective of this initiative.
Pre Requisites to Register in WBIFMS app
Before going to generate the MPIN or Register on WBiFMS app an employee have to register and generate E-Services for Employee Password. Click on the Below button to know How to Generate Employee Password.
How to Generate Employee Password

Generate MPIN /Register as Employee
1. Download the Android App from Google Play Store. You can search on the Play Store App or Click on the below button to download the Application.
Click here to Download WBIFMS App
Download from Play Store.
2. After Downloading the app from Play Store open it.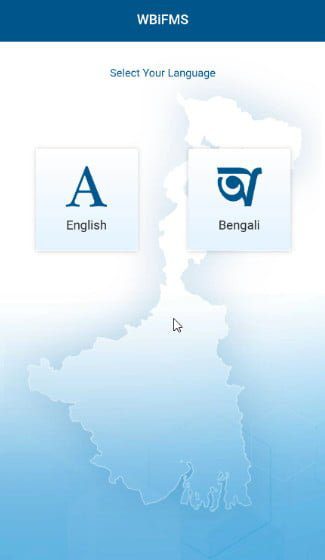 3. Select the App Language "English/ Bengali".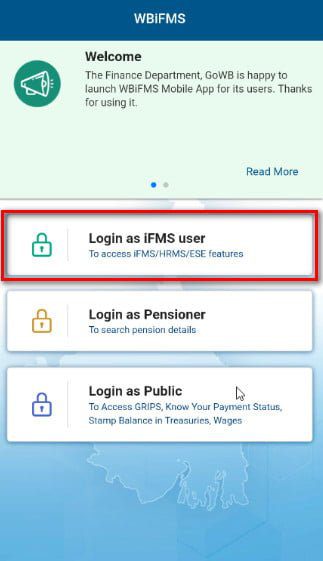 4. Here you can find three options. For register as an employee/ Stakeholder tap on the first option Login as iFMS user.
A Login page will appear.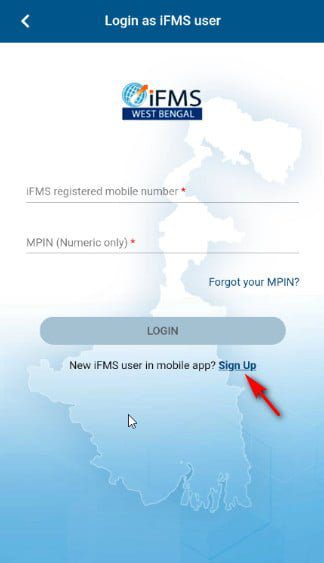 5. Tap on the Sign Up option.
A Registration form will open.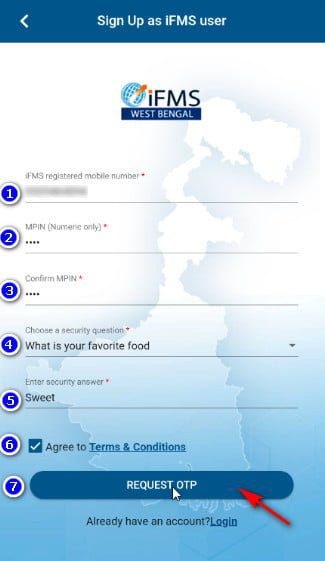 6. Carefully fill all the data.
1) Enter your registered mobile number.

2) Enter a four-digit numerical MPIN.

3) Confirm the MPIN

4) Choose a security question for future reference if you forgot your MPIN.

5) Enter the security answer as anything you want.

6) Check for agreeing to the Terms & conditions. You can read the terms & conditions by clicking the option.

7) Tap on the Request OTP button
An OTP will be sent to your registered mobile number.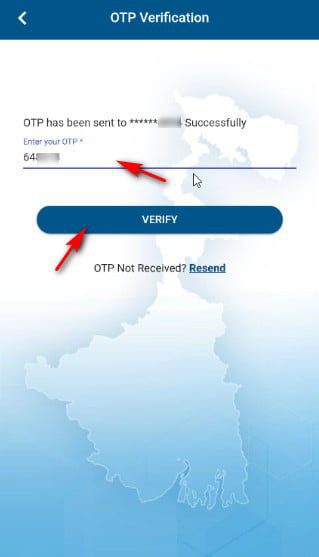 7. Enter the OTP.
8. Tap on the Verify Button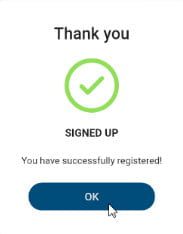 A message will appear confirming successful registration.
9. Tap on OK
The Login page will appear.
10. Enter the registered mobile number and your MPIN
11. Tap on the LOGIN button.
Profile page will appear.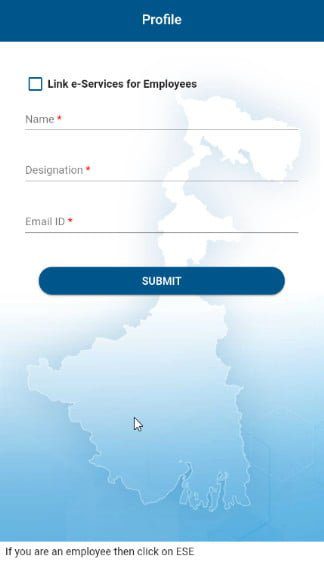 12. You can click on the Link e-Services for Employees to log in with ESE account or enter Name, designation and email Id and tap on the Submit button.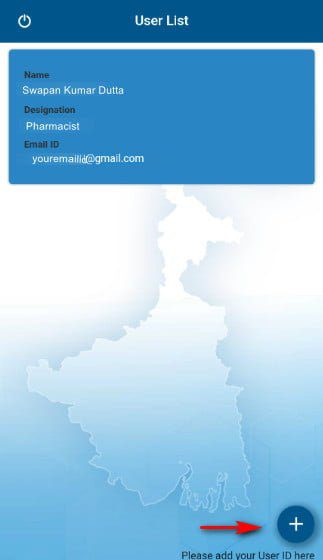 13. Tap on the plus icon (+) on the bottom right corner to add ESE Account.
A login page will appear.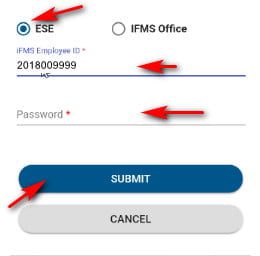 14. Select user as ESE for employee or IFMS office for AA/HOO etc.
15. For ESE enter IFMS Employee ID.
16. Enter IFMS registered password.
17. Tap on the Submit Button.
If you aren't registered earlier click on the button below to view how to register.
How to register on e-Services for Employee

If you forgot your password click here to reset password.
OTP will send to verify the registered mobile number.
18. Enter the OTP.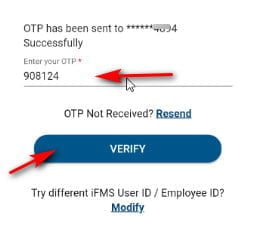 19. Tap on the Verify button.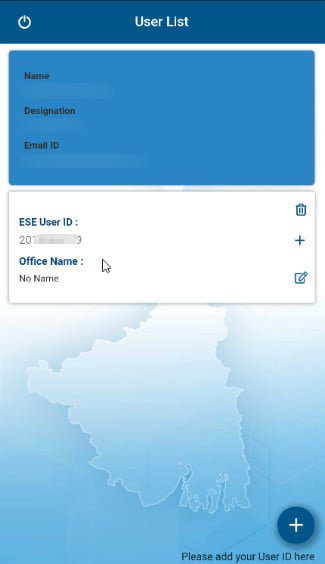 User list will appear now. You can delete and add more user like AA/HOO (for office login).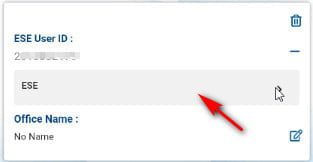 20. Tap on the plus + icon right of the Employee no.
21. Tap on ESE.
Now the HOME page will appear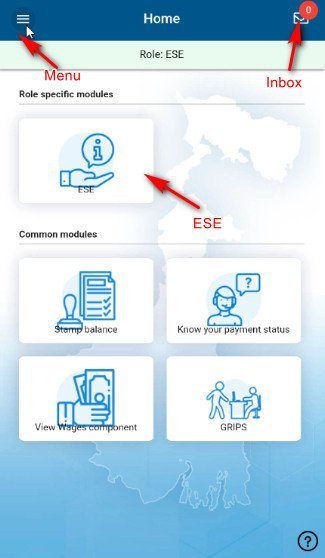 22. Click on ESE to get the employee services like downloading Pay Slip, Apply for Leave, Apply for Loan, Check Leave balance etc.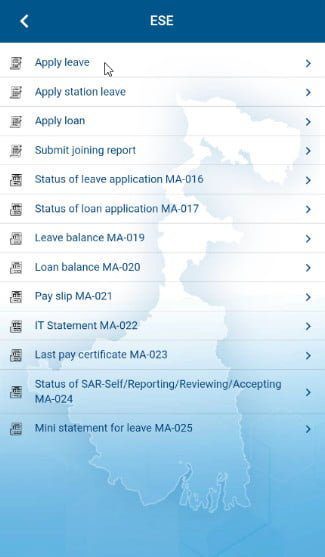 23. Tap on the Inbox to view saved item and other inbox items.
24. Tap on the Menu to view sidebar menu for more options.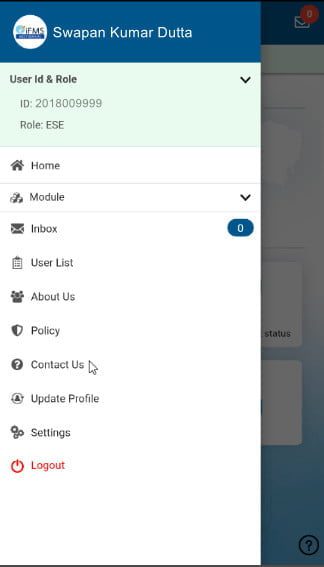 Thank You for visiting this website. We will continue more tutorials like How to download pay slip from wbifms app, How to apply leave, loan etc. Stay connected.
View: How to download Payslip from WBIFMS mobile app
Watch Video Tutorial to Register in WBIFMS app: