Employees Corner
WBIFMS Pay Slip Download 2023 for West Bengal Government Employees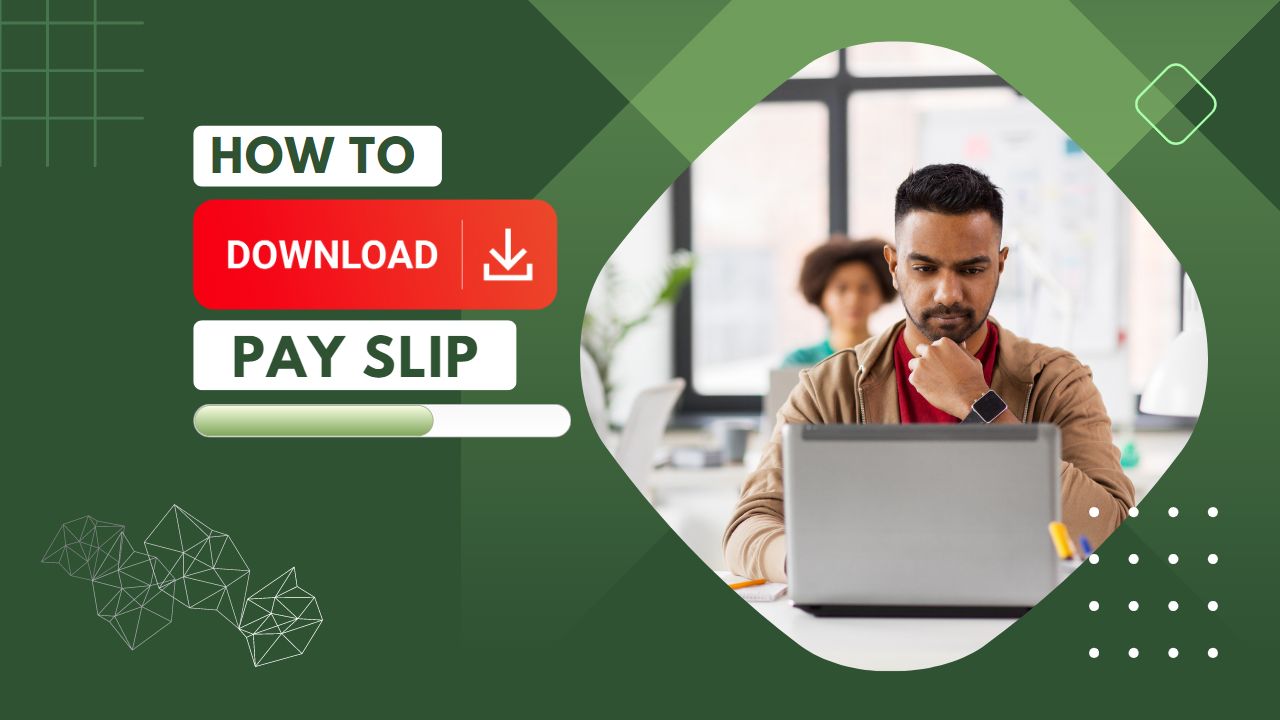 WBIFMS Pay Slip Download: If you are a government employee of West Bengal, you may be facing trouble to download Pay Slip or Salary slip form WBIFMS. In this article, showing the simple and easy step-by-step process of how to download WBIFMS Pay Slip for West Bengal Government Employees and important information regarding WBIFMS pay slip download.
Importance of Downloading WBIFMS Pay Slip
We recommand to download your payslip every month for following important reasons:
Checking pay slip every month prevent any clerical mistake during the bill preparation in WB IFMS.
Downloading pay slip from WB IFMS is a very easy process.
Downloading pay slip in the month of July is important because of changing salary due to annual increment.
Month of salary changes due to 8 years, 16 years and 25 years CAS benefit is recommended for verifying the calculation of salary.
Pay slip or salary slip maybe required for getting loan from various banks.
Information regarding GPF subscription, GIS subscription should be checked from the payslip.
It is suggested to compare your payslip with that of other employees in the same category and group after downloading them.
Pay slip contents videos important information like employee number place of posting GPF number and income details.
Pay slip for West Bengal Government employees sometimes acts as identity document.
The pay slips for West Bengal Government employees are digitally signed and no physical signature required to authenticate the payslip.
The pay slip available on the WBIFMS portal can be downloaded in a PDF format, making it convenient for printing and sharing purposes.
Important information about WBIFMS Pay Slip Download
Here is some valuable information about the WBIFMS payslip for West Bengal Government Employees.
| | |
| --- | --- |
| Subject | WBIFMS Pay Slip Download |
| Issuing authority | West Bengal Finance Department |
| Introduced from | 1st January 2016 |
| Available up to | Current Month |
| Format | PDF (Portable Document Format) |
| File Size | 10 KB |
| Website | https://wbifms.gov.in |
Prerequisites for Downloading Payslip from WBIFMS portal
Before going to download the payslip from WBIFMS portal, the following actions should be taken by the government employee of West Bengal.
Collect the employee number from your office.

Employee number is a Unique Identification number for West Bengal Government employees.
It is usually consisting of 10 digits except the Employees with work charge contents a "W" before 10 digit employee number.

To download your pay slip for a specific month, it is necessary to have at least one month's salary credited to your account.
Pay slip will be available for the previous months if salary bill passed from the treasury office.
You need to register one time in the WBIFMS portal using your employee number and mobile number which is inserted in your HRMS profile in WBIFMS portal.
If you want to download the payslip from WBIFMS Android or iOS app, you need to download the app first.
How to register on WBIFMS Portal:
To download the payslip, you need to register first in WBIFMS portal. Showing the step-by-step process to register in this portal.
Open any web browser and go to WBIFMS Portal (https://wbifms.gov.in) or click here.
The Homepage of WBIFMS will appear.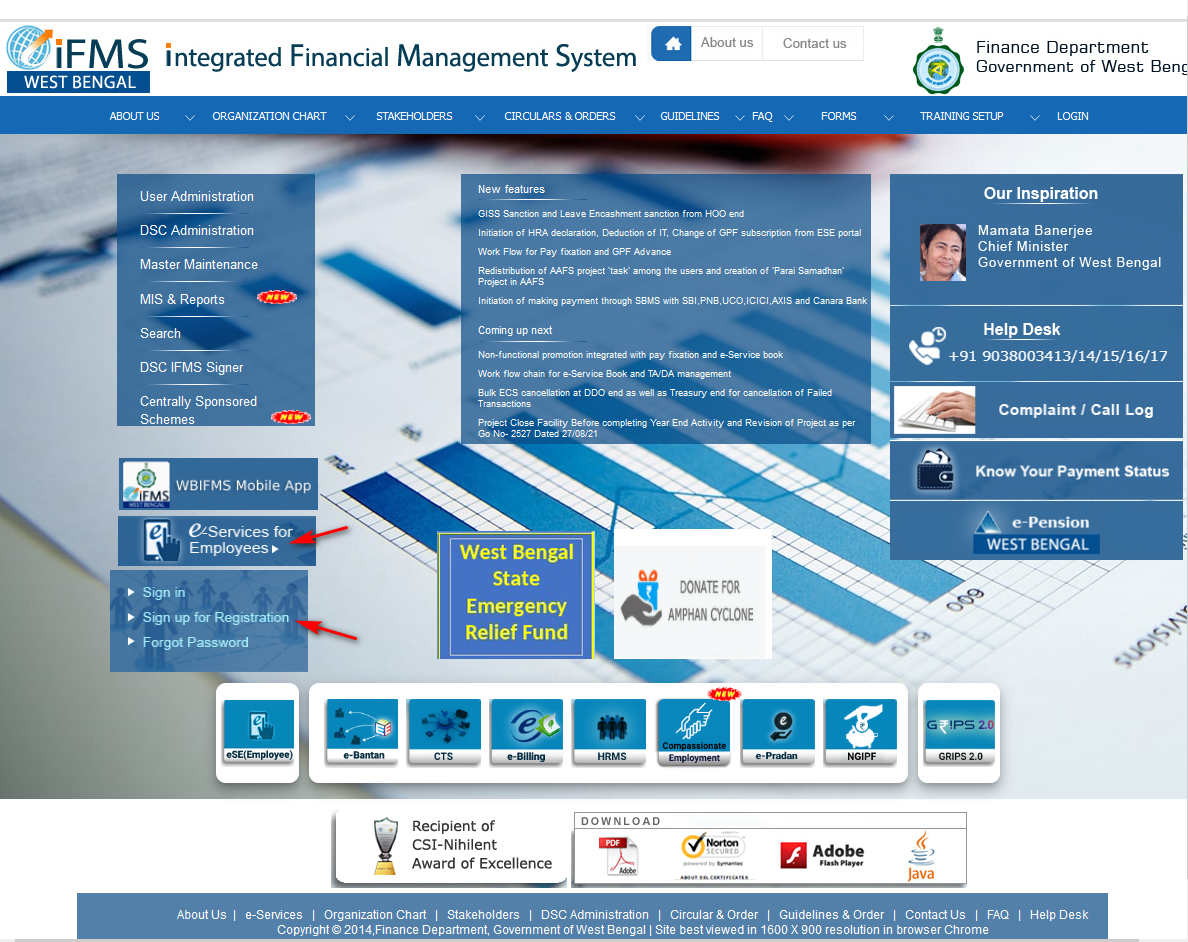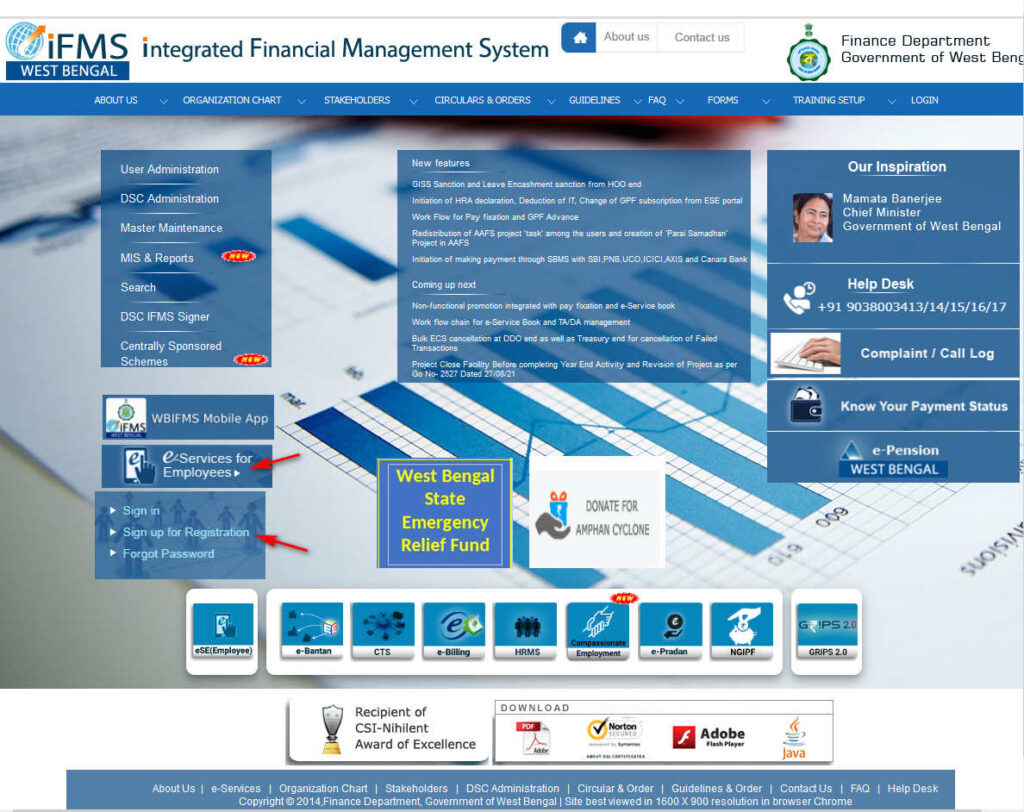 Click on the e-Services for Employees option on the left side of the screen. If you are using a mobile device, this option may be floated to the right side of the screen.
Click on the Option, Sign up for registration to register for first time.
Employee Registration page will open.
Enter employee number, Mobile number and fill the captcha code and Click on the Register button.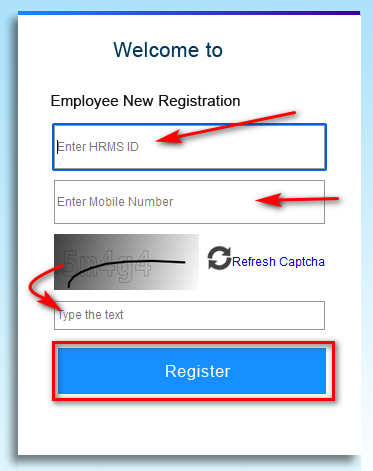 You will receive an OTP on your mobile. Please note that it may take about 3-4 minutes to receive the OTP in the employee's registered mobile no.
WBIFMS Account Creation page will open.
Another numerical OTP will be sent to your mobile number.
Enter the OTP, check the declaration box.
Click on the Create My Account button.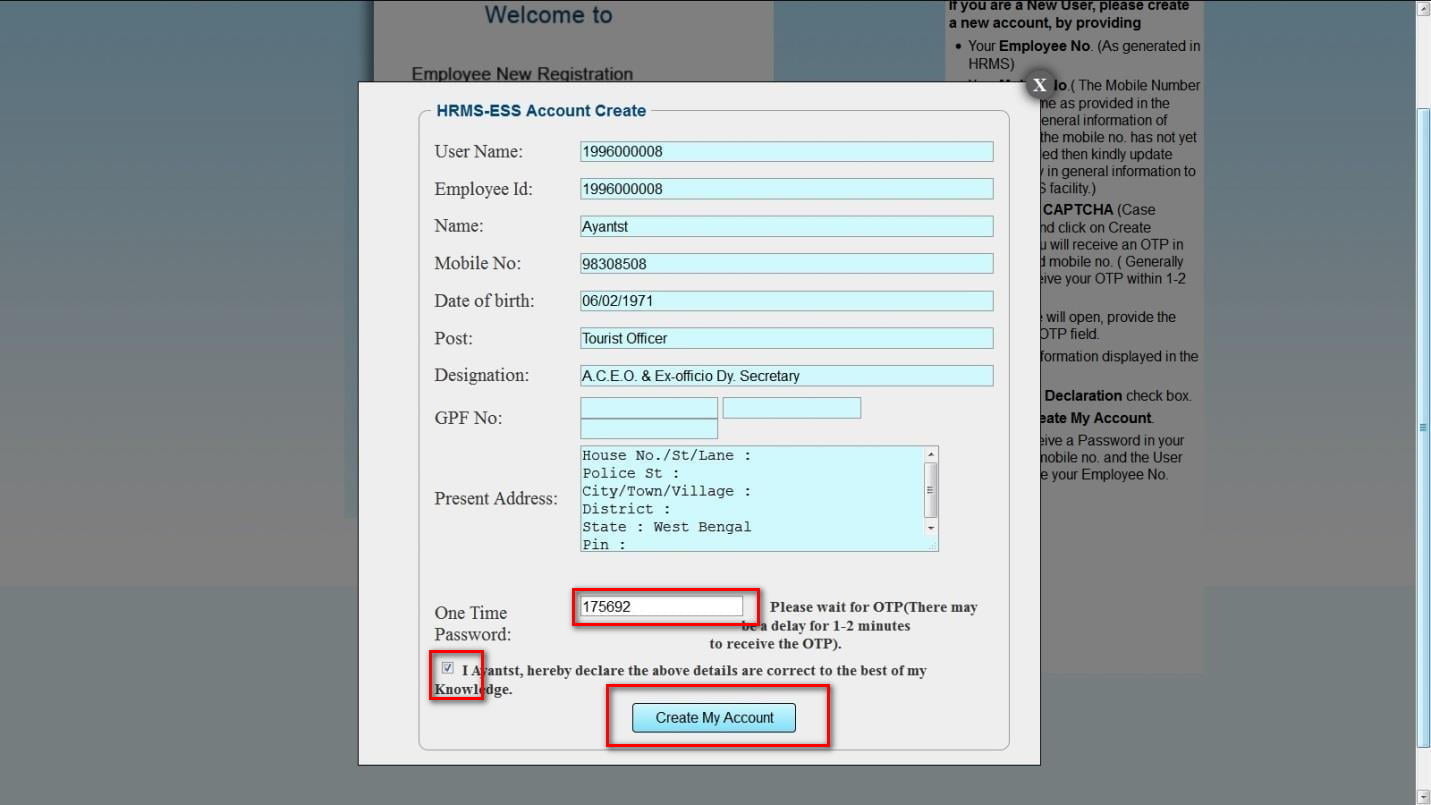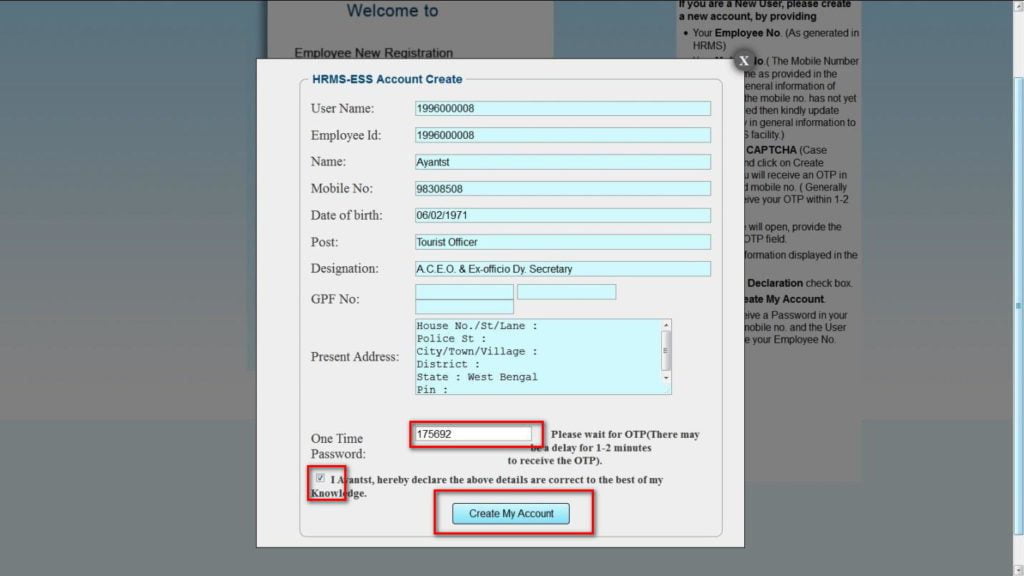 The account creation page will display with a success message at the top.
Along with it, the employee will receive an SMS in his registered mobile no. for a temporary password.
This password requires being compulsorily changed when the employee logs in for the first time using the login (i.e., the employee no and the temporary password).


Example of OTP for WBIFMS is: "Ess-s2fg", "Ess-25g1" etc.
View: How to register in WBIFMS Portal
Login to your account to Download Pay Slip
As the account is created, you can now log in to the account of WBIFMS and download the payslip easily.
Open any web browser and go to WBIFMS portal https://wbifms.gov.in or click here. The Homepage of WBIFMS will appears.
Click on Sign In option under the menu e-Services for Employees
The Sign in page will appear.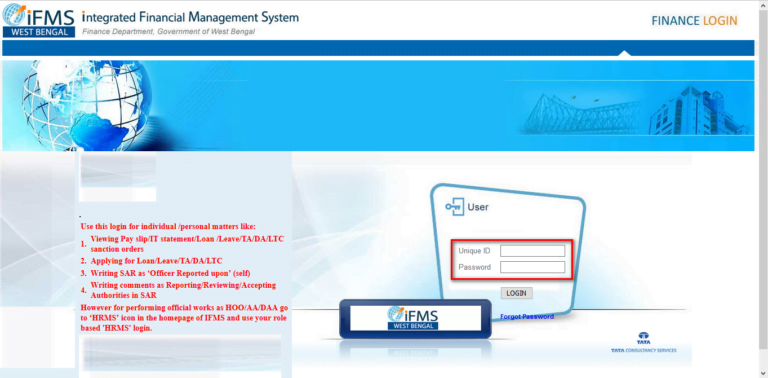 Enter the Login ID (which is your Employee No. in HRMS) and Password (For the first time user: temporary password received in your mobile)
Click on the Login button.
(After logging in, the first-time users need to change the password)

WBIFMS Pay Slip Download process:
After login to the employee account, you can download pay slip form easily by following the simple process.
Click on My Documents option in the Left Menu.
Click on View Payslip option.
The Icons of Pay slips will appear in the next screen.
Click on the icon of the concerned month to download the payslip of the month in PDF format.
To change the year, click on the triangle shaped previous and next symbol in the upper left and upper right corner.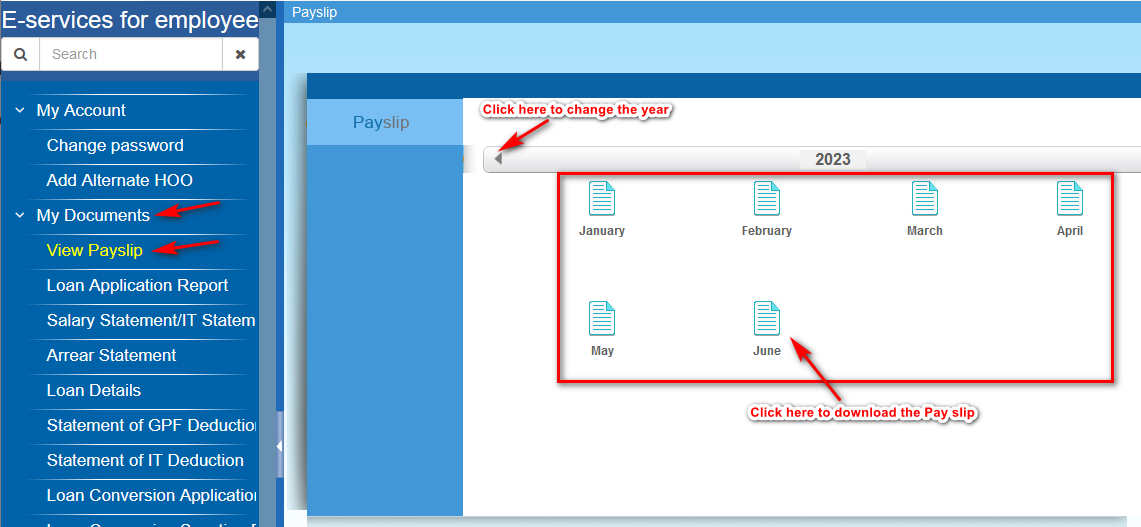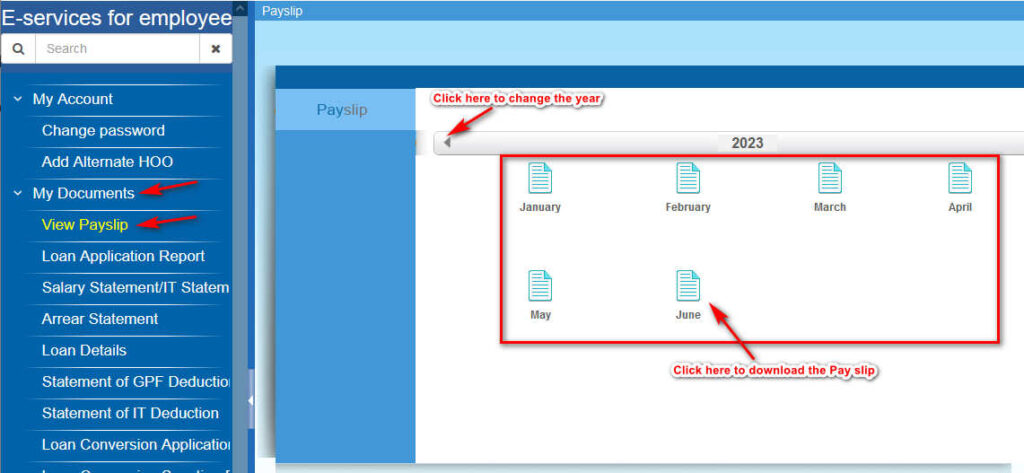 Original copy of WBIFMS Payslip 2023: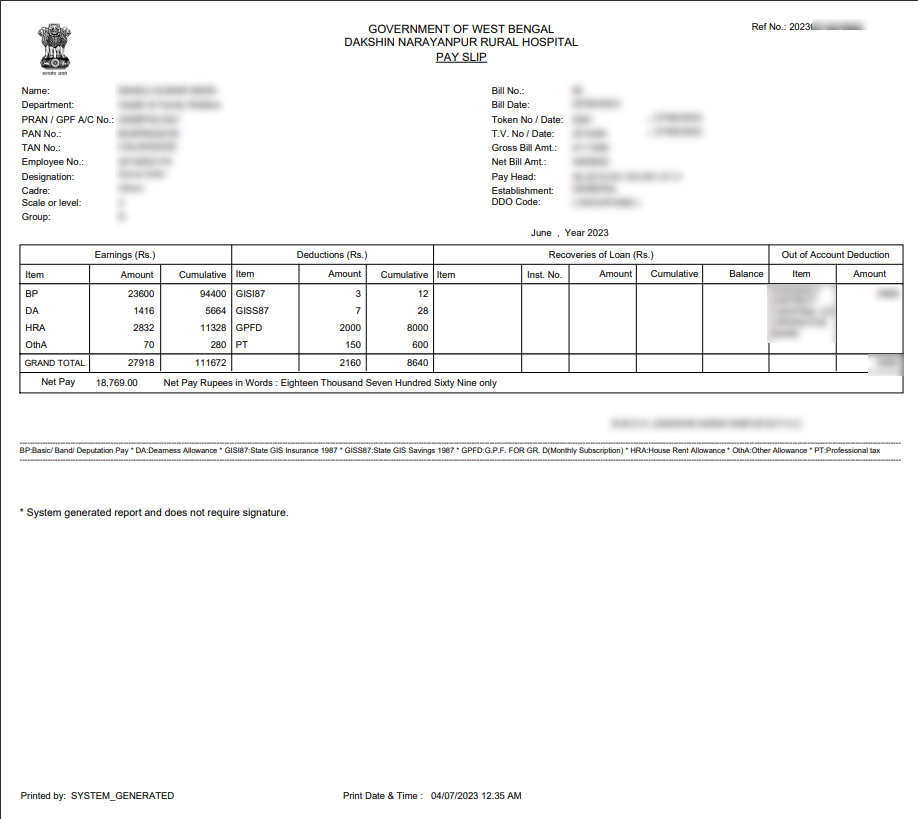 Information provided in the WBIFMS Pay slip
The following information are provided in the pay slip of Government Employees of West Bengal:
Personal Information:

Name of Employee
Department where the employee working
PRAN or GPF A/C No (View GPF Interest Rates)
PAN Number: Permanent Account Number by Income tax department of India.
TAN Number: Tax Deduction and Collection Account Number of Employer.
Employee Number: 10 digits unique identification number of employee.
Designation: Post of employee
Cadre of employee
Scale or Level of pay
Group of Employee (A, B, C, D)

Salary/ Pay bill Information:

Bill No: Provided by DDO/ operator of DDO.
Bill Date: The date in which the pay bill is generated.
Token no and date from treasury office, when the bill is submitted to the treasury.
TV no and Date (Treasury Voucher No and Date, after passing from treasury office).
Gross bill amount, including all the beneficiaries of the bill.
Net Bill amount, including all employee in a single bill.
Pay Head of account: Government Payment Head of Account.
Establishment: Section where the employee is working.
DDO code: a unique identification number of drawing and disbursing officer.
Salary Month

Salary Information:

BP: Basic Pay
DA: Dearness allowance
HRA: House Rent Allowance
NPA: Non-Practicing allowance for doctors
MA: Medical Allowance
OthA: Other allowance
GIS: Group Insurance cum Savings fund
GPF: General Provident Fund.
PT: Professional Tax
Loan details if any
Out of account deduction
and many more other pay and allowances applicable for concerned employees.
Difficulties during WBIFMS Pay Slip Download
You can face some known difficulties during downloading of WBIFMS pay slip for the current month. Here are some of these:
If you forgot login credentials i.e. Login ID and password. It May require to reset the password from Forget Password option.
Sometimes providing right password also shows a message for wrong credentials. In this situation please wait for some time and login again with the same ID and Password.
The WBIFMS server may occasionally not respond due to technical issues.
If you found this page helpful, we would love to hear from you! Leave a comment below and don't forget to share with others to spread the knowledge. Thank you for your support!
FAQs
What is a payslip?
A payslip is a document provided by the employer of a company or government office to the employees with details information of pay structure like basic pay, dearness allowances, medical allowances etc.
What is BP in payslip?
The full form of BP is Basic Pay, which is stated in the payslip.
What is DA in payslip?
DA stands for Dearness Allowances in Payslip of West Bengal Government employees.
What is HRA in payslip?
Full form of HRA in payslip is House Rent Allowance.
What is WBIFMS Pay Slip?
A monthly salary statement provided by the Finance department of West Bengal through WBIFMS portal is known as WBIFMS Pay slip for West Bengal Government Employees.